What's in store for National DNA Day 2019? The lowest sale prices on DNA test kits of the year!
UPDATED 10:00 am CDT, Thursday, April 25th, 2019
Well National DNA Day is just a few days away so get ready for an amazing 2019 sales campaign by the major DNA testing companies. AncestryDNA has reported over 15 million of their DNA test kits have been sold and there is still a HUGE interest in DNA testing. Here are the CURRENT National DNA Day Sales . . . many end on Thursday, April 25th so don't delay!
Ancestry: Right now you can save 30% on AncestryDNA – the world's most popular personal DNA test kit – and pay just $69! Take advantage of the AncestryDNA National DNA Day Sale now through Thursday, April 25th and discover more about your own ethnicity. VIEW DETAILS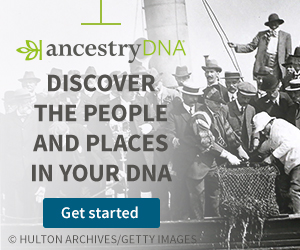 Ancestry: Save 25% at AncestryDNA UK! See what your DNA reveals! Take an AncestryDNA® test to discover your ancestors' origins and start a journey into your past. Save during the AncestryDNA DNA Day Sale: regularly £79, you pay just £59! Sale valid through April 28th. VIEW DETAILS
Living DNA:

Save up to 40%

on Living DNA during National DNA Day Sale! Living DNA is the world's most advanced DNA test, offering twice the detail of other ancestry tests. If you have British or Irish heritage, this test is a MUST since it shows you the ethnic breakdown by region. VIEW DETAILS
Get FREE SHIPPING on DNA Test Kits at Amazon!
Don't forget that Amazon Prime Members can get FREE SHIPPING on DNA test kits . . . often at the same National DNA Day sale price!
Save on DNA Education during National DNA Day
You can also find a variety of DNA educational items include webinars, digital downloads and books available at steep discounts during National DNA Day!
DNA Boot Camp: Save 50% on all DNA Boot Camp digital downloads during National DNA Day Sale with  promo code DNADAY19 – VIEW DETAILS Titles include:
Each digital download consists of two 90-minute recorded webinars, with Q&A periods, PLUS extensive handouts.
Amazon: Save 50% on The Family Tree Guide to DNA Testing and Genetic Genealogy by Blaine Bettinger. "See what genetic testing for ancestry can do for you. This ebook discusses how to use DNA testing in genealogy, from selecting the best test to interpreting your DNA test results and branching out your genealogical family tree."
Amazon: Save over 30% on pre-order of The DNA Guide for Adoptees: How to use genealogy and genetics to uncover your roots, connect with your biological family, and better understand your medical history by Brianne Kirkpatrick and Shannon Combs-Bennett. Publication price will be $14.99, get it now for delivery on May 30th for just $9.99! VIEW DETAILS
"What DNA Test Should I Take?" Here's My Advice . . .
I am a firm believer in being an informed DNA consumer and that knowledge is power. That is why I have done a DNA test with each of the Big 5 DNA testing companies. Here are some tips:
Determine your goals and treat DNA testing seriously. Remember, this is not some parlor game like a Ouija Board. Finding out your ethnic makeup does not mean you are "done" with your family history.
An autosomal DNA test is the most common DNA test kit on the market currently and tests for DNA inherited from both of your parents. The test results will also include random DNA inherited from your grandparents, great-grandparents, etc. Autosomal tests are a good starting point for anyone who has not yet taken a DNA test.
Other factors influencing which DNA test to use as well as which DNA testing company is best for your needs include: the age of the person being tested; whether the person being tested is on antibiotics, going through chemotherapy, or has had a recent organ transplant; and more.
Click HERE to download the FREE DNA Buying Guide filled with over 54 pages of useful information on DNA testing including a Resource List with over 100 tools and sites to help you get the most out of your DNA testing experience.
DNA Scams On The Rise: Buyer Beware!
As personal DNA testing increases in popularity and there is also an increased focus from media on the topic of DNA and genealogy, you can bet that the opportunists looking to make quick money will come out of the woodwork! Here are some tips on how to avoid scams and how to get the most for your DNA testing dollars:
Always stick with the Big 5 DNA testing companies if you want to use DNA test data for genealogy and family history research. Beware of "fly by night" companies that you've never heard of or that don't provide a way to match and connect with other DNA testers on their site.
Also, watch out for super low prices such as $29 for a DNA testing kit. Many of these tests are only for the DNA collection materials (spit or swab) and then you are required to pay extra to actually get your results! Remember, I predict that the lowest price we'll see during National DNA Day is $49 USD for a basic autosomal DNA test (and that won't include shipping)!
Any reputable DNA testing vendor will provide an easy way for you to download the raw DNA data and let you keep it to use at other sites.
Avoid DNA tests that say they can prove Cherokee or other Native American ancestry. There is no such technology or DNA test available at this point in time.
In addition, remember, when it comes to DNA products and services, if it sounds too good to be true, it probably is!
What about DNA Privacy? What You Should Know BEFORE You Take a DNA Test
We live in a curious and precarious time in terms of privacy. Due to technology making huge improvements in our everyday lives, we are more willing to give out our data in order to save time or provide convenience. This is more true with the Millennial generation as opposed to my Baby Boomer generation. Boomers tend to be more hesitant to share info about ourselves to the point whereby some won't even take a DNA test.
Here's a common sense approach to DNA privacy:
Always read the Terms of Service and the Privacy Policy on the DNA testing vendor's website BEFORE purchasing a DNA test kit. The Big 5 DNA testing companies make it easy to find this information. Avoid any company that doesn't have these policies available.
Make sure you download your DNA test data once notified of your results and make sure it is backed up with all of your other computer data.
Do DNA testing companies sell your DNA test data to other companies? The answer, right now, is a "qualified" YES. AncestryDNA, for example, works with Calico, "a company focused on longevity research and therapeutics" (according to a recent Ancestry press release) and provides DNA "metadata" gathered from its over 8 million DNA test subjects. Privacy is a double-edged sword when it comes to DNA: we want to know more about our ethnicity and our health issues, but we can't reap the benefits of this knowledge without sharing the data with individuals as well as other companies and providers.
If you "port" or use your DNA test results on other websites such as GEDmatch or Promethease, make sure you understand each sites' privacy mechanisms and what other users can see in terms of your profile as well as your data.
Check to see if a DNA testing vendor retains your DNA sample or destroys the sample after testing. On the plus side, storing samples allows you to upgrade to additional tests or reports; on the minus side, how secure is your sample?
Where Will Your DNA Take You?
Get ready for a fun and wild ride starting with National DNA Day 2019 through the end of the year. I promise we will see many new developments in the personal DNA testing field and by the end of the year we might even see a $39 USD price during the Black Friday / Cyber Monday sales period!
©2019, copyright Thomas MacEntee. All rights reserved.