Get the World's Most Popular DNA Test Kit – AncestryDNA for only $59!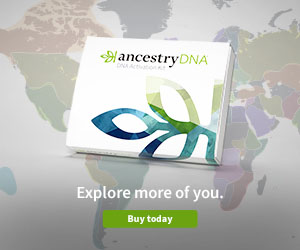 Now AncestryDNA® reveals more hidden riches in your family history. Our new DNA experience gives you more ways to explore your DNA Matches, connect to more precise regions, and gain insights into your personal traits.
Regularly $99, now just $59! Sale valid through Monday, August 26th! VIEW DETAILS
DNA Getaway Contest
Share your story for a chance to win a dream vacation to where your ancestors once lived! Let your DNA take you on the adventure of a lifetime. You could win a trip to where your ancestors once lived and connect with your heritage, your history…maybe even new family! Your next great adventure awaits! Click HERE to enter.
Don't Delay! Save 40% TODAY!
It can be so easy to let a sale like this pass you by. Don't tell yourself you'll remember to purchase AncestryDNA over the weekend . . . you will probably forget! Get AncestryDNA for just $59 NOW!
©2019, copyright Thomas MacEntee. All rights reserved